21 DAY YOGA CHALLENGE
ONLINE & 100% FREE: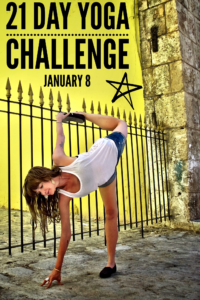 STARTS JANUARY 8
A little yoga each day goes a long way! Spark your new year healthy habits with a yoga challenge you can do anytime, anywhere.
Studies show that it takes 21 days to form a habit – use this challenge to kick-start your 2018 dedication to wellness and self care.
Each day you'll receive an email with a link to your yoga video: it could be a 5 minute meditation, a 10 minute core practice, a 15 or 20 minute feel good flow, or even guided relaxation.

Enjoy this act of self-care and discover how amazing you can feel, each and every day.
Know someone who could benefit? Spread the word and share the love and remember: this 21 Day Challenge is completely FREE!