A little bit of yoga each day goes a long way!
Spark your healthy habits with a yoga challenge you can do anytime, anywhere.
Enjoy this act of self-care and discover how amazing you can feel, each and every day!
---
This 10 Day Core Challenge is about igniting your inner fire and connecting to the light, strength, & potential you have within.
Meditation, flow, and core work all combine to awaken your inner and outer strength, allowing you to feel confident and full of life.
---
This 7 Day Spring Cleaning Challenge is about letting of any funk from the previous season and months so we can float joyfully into Spring!
We'll move & breathe, we'll twist & strengthen, we'll stretch & soften – all in an effort to feel lighter, happier, and more free.
Come on – let's exhale the FUNK!
---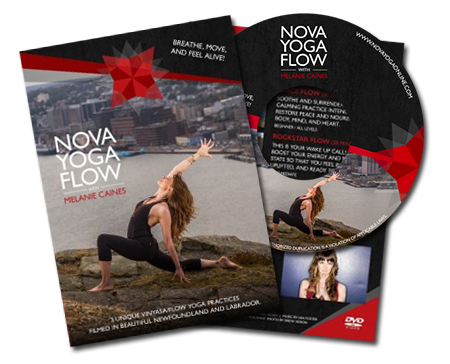 Nova Yoga Flow DVD
now available!
Join Melanie for 3 unique Vinyasa/Flow yoga practices filmed in 3 beautiful locations in Newfoundland & Labrador (Flatrock, Quidi Vidi, and Signal Hill).
This DVD includes:
Peace Flow (30 mins/beginners and all levels)
Rockstar Flow (28 mins/intermediate)
Sweet & Spicy Flow (48 mins/advanced)
---
The Go Flow Sessions! on Vimeo.
Enjoy twelve delicious 30 minute practices intended to make your body smile and your heart sing. Breathe, move, & feel ALIVE! 

---
MOVE WITH MELANIE UNISEX TANK
$30 (plus $5 shipping)
Tanks by Jerico (Canadian Made Socially Conscious Apparel)
SEND ME A SMALL TANK!
SEND ME A MEDIUM TANK!
SEND ME A LARGE TANK!