I friggin' love New York City.  It is one of my absolute favorite places in the world.  It's crowded, filled to the brim,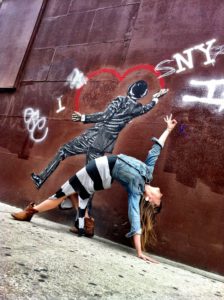 overwhelming, and chaotic, AND I CANNOT STAY AWAY.  Am I obsessed?  Probably.  But there are worse addictions (like my infatuation with Frye boots.  Yes, I'm a yogi, but I'm also human).
Despite what people think, New York is an incredibly friendly city.  Yes, there are angry drivers and lots of people with their heads down, trying to get to where they are going, but in my experience people are helpful, open, and they enjoy connecting.  I've been a pretty consistent visitor for the past 12 years (sometimes for yoga, sometimes for fun, sometimes solo, sometimes with my family, partner, and friends) and it never gets old: I still get that tingly rush of excitement as the cab whisks me into the city and I still feel that wave of sadness when I leave.
My first trip to the city was in 2005 with my Mom and we did the tourist thing: we stayed in Times Square, saw the Statue of Liberty, and toured around the city in a bus.  It was great and gave me the lay of the land but every trip since then has been a different experience.  I like to consider myself a visitor (as opposed to a tourist) and explore the city like a local, whether I'm there for a long weekend or a whole month.  People often ask me what I like to do when I'm there and my agenda is simple: walk, see, eat.  Manhattan is SO TINY and there are a kajillion people living there – it's incredibly diverse and always on the go.  What's not to love?!
This is how I do New York.
HOW I PLAN MY DAY
I'm going to be honest: I plan my day around the food I want to eat.  For reals (amazing food = priorities).  I back-time my day (thank you Mark Neary) to make sure I can fit in my meals: if I'm going to a show at 8pm, dinner will have to be around 6pm, which means I should have lunch no later than 1pm.  How can you not prioritize food in that city?  THERE ARE SO MANY DELICIOUS THINGS TO EAT.  I teach yoga, practice daily, and eat very well in my everyday life.  And when I'm in New York I love to indulge, enjoy, and treat myself to all the wonders the city has to offer.
Here's a sample:
10:00am Head out into the day (I usually have a handful of nuts, a banana, and a green tea for brekkie.  Sometimes I'll get a bagel from a deli with egg and cheese – SO GOOD – but then I might not be hungry enough for lunch, which would be a total shame; it's happened before and I've been so bummed out that there wasn't room in my belly for a delicious pasta or a Thai red curry).  I wander and walk (visit Washington Square Park, check out a yoga class, get a cookie: you know, the usual).
1:00pm Eat all the amazing things for lunch
2:00pm Stroll through Greenwich Village, browse my favourite shops in Soho, walk to Trader Joe's on 14th Street to get room wine and room chocolate (you know, for later).
5:00pm Head to the hotel for a shower and a rest.
6:00pm Eat all the amazing things for dinner.
8:00pm Go see a show, a band, or a movie.
25, 000 steps later I arrive back at my hotel, put my legs up the wall, and pat myself on the back for going to get room snacks earlier in the day.  Success!  And repeat.
---
WHAT I LIKE TO DO
Walk!
And walk and walk and walk.  For hours and hours and hours.  It's what I spend the bulk of each day doing.  You don't necessarily need a destination – walk for blocks and take in your surroundings (there's no shortage of things to look at).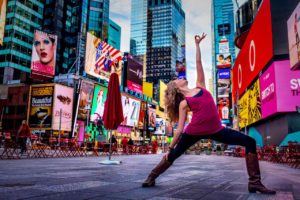 Times Square at Night
The crowds in Times Square can put even the most patient yogi's super powers to the test.  It is packed with tourists and can take you forever to walk a block.  But I find it incredibly pleasing at night.  Yes, it's still teeming with people but the lights, the life, and the energy are wildly exciting and I love sauntering through (good luck to you if you're in a hurry) or even pausing to people watch (there are benches, tables, and chairs everywhere).  BUT DON'T BOOK A HOTEL HERE (more on that later).
Photo: if you're craving some alone time in Times Square best to get there before 6am, when this photo was taken by Leo Lo Photography. 
A Night at the Theatre
There's so much to see!  I'm not a fan of musical theatre but there are plenty of dramas, comedies, and interactive theatre to see on Broadway and off.  Tickets can be expensive but it's always worth it.  I do my research beforehand so I know what's playing and I know what people are raving about.  I'll talk tickets and info a little later on.
Have a Laugh
This has to be my favourite night out in the city.  The Comedy Cellar is a tiny basement club in Greenwich Village packed with people laughing their asses off 7 nights a week.  It's a New York institution and many comedians (like Amy Schumer, Louis C.K., Dave Chapelle, and Chris Rock) got their start here.  If you're lucky one of those now-famous comedians may drop in as a surprise guest.  Shows are always sold out so it's best to reserve in advance online or via phone.  Reservations are free and at the end of the show you'll get a bill for your cover charge (usually $12-$14) and whatever you ordered (there's a 2 item minimum per person).  You won't regret it (though you might if you take your parents – some of the comedians can get raunch raunch raunchy.  Choose your laughing partner wisely . . . and godspeed if you get seated in the front row).
Hit Up a Yoga Class
New York has tons of amazing studios and teachers and classes for both early birds and night owls, and everyone in between.  I did my Yoga Teacher Training at Sonic Yoga in Hell's Kitchen back in 2008; they've since moved to a new location (just around the corner from their former location) and it's still my go-to.  If you are in the mood to get crazy and let loose check out Dana Trixie Flynn's class at Laughing Lotus: the studio is funky, she's tons of fun, and her classes are wild with lots of flow and loud music.  I've also taken great classes at the Kula Yoga Project in Tribeca – they have multiple spaces in the building and a great variety of teachers.
Visit Iconic Landmarks
The Flatiron Building is one of my favourite landmarks in the city – it is so striking and worth a visit.
I've never taken the ride up to the top of the Empire State Building but looking up and catching it in the skyline never gets old.
Pictured: Flatiron Building Photo by Leo Lo Photography.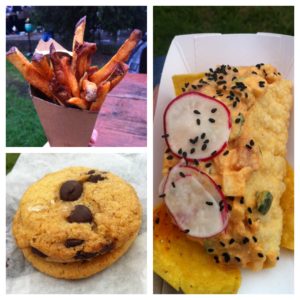 Get Treats at Smorgasburg
Ok, you (I) could seriously spend a week browsing and eating here.  Jump on the subway and head to Brooklyn for this mesmerizing feast for the eyes and belly.   In the warmer months the market is held outside and there are up to 100 vendors.  Don't get tempted too quickly: be patient and make your rounds.  Scope out the scene and notice where the lineups are – a good indication of what's going to knock your socks off.  The fries are amazing and last time I had a earl gray chocolate chip mint cookie from a bakery in Brooklyn that was out of this world.  Confession: my boyfriend and I went for lunch, went to a nearby coffee shop to read and hang out until we got hungry again, and then went back for round two. https://www.smorgasburg.com/
Walk the High Line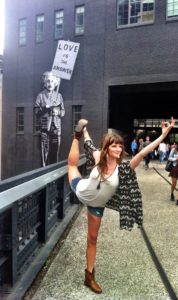 It may be crowded by it's definitely worth a go.  The High Line is an elevated park created on an old railway bed – how cool is that??   It stretches over 2 kilometres long and there tons of cool seating areas (and ice cream!) along the way.  There are many entry and exit points so you can choose where you start and where you end.  It's truly lovely.  Way to re-purpose, New York!  http://www.thehighline.org/
Photo: Dancing on the High Line
Picnic in Central Park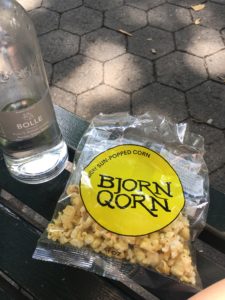 Do yourself a favour and download the Central Park app before you go – that way you'll have a map handy (and you'll know where are the bathrooms are – seriously, is there anything more stressful than busting to pee when you're out and not knowing where to go?)  I love stopping into Eataly (see the WHAT I LIKE TO EAT list) and picking up an Italian sandwich or choosing something tasty from their incredible selection of salads and snacks.  Grab some napkins, cutlery, and a bottle of Italian sparkling water and jump on the subway: you're having a picnic in the park!
Pictured: said sparking water and the yummiest store-bought popcorn I've ever tasted (sprinkled with nutritional yeast, just like my brilliant boyfriend makes!)
Not pictured: my artisan sandwich and beet salad.  I was hot, I was hangry – 'nuff said.
Stop and Smell the Roses
Grab a tea and get cozy on a bench or in the grass: New York has plenty of gathering places to chat, read, and people watch.  My favs are Union Square, Washington Square Park, and Madison Square Park.
Go See a Band
I'm not a fan of big stadium shows but there are plenty to enjoy in the city.  I prefer smaller venues that hold a couple of hundred people.  I've seen great bands in places like the Mercury Lounge, the Highline Ballroom, the Bowery Ballroom, and Pianos.
Check Out An Indie Movie
New York has great little cinemas showing old school movies as well as indie new releases and obscure titles that Cineplex and the other big theatres would never pick up.  And you never know who might be making an appearance: we just missed Ewan McGregor doing a Q & A after a showing of his latest project last year.  Check out the IFC Centre, Sunshine Landmark, Village East Cinema, and Angelika Film Centre.
Walk the Brooklyn Bridge
Like the High Line it may be crowded but it's worth a go.  You might get to the other side in 30min, it might take you 60mins depending on how many times you stop for pics, your pace, and how busy the foot traffic is that day.  Bring some water on a hot day or you can always buy from vendors on the bridge.
Shop 'Til I Drop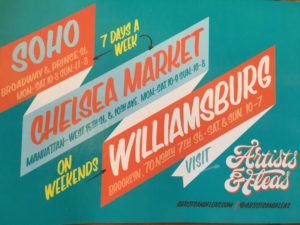 Or more like "browse 'til I'm hungry."  I do more window shopping than actual buying: I like to travel with a carry on so there's not a lot of space to bring back treasures.  Sometimes I'm on a mission, sometimes I don't enter a single store.  If I wanting to shop I like to check out the shops in Soho: not the bougie or chichi (that is definitely not how I thought that was spelled) part of Soho west of Broadway, but the "everywoman" stores we all know (there are also many of the same shops in Herald Square on 34th street).  I do love popping into the flagship Frye Company store on Spring Street just to browse (ok, sometimes to buy).  Nothing gets me drooling like wall to wall shelves filled with gorgeous handmade leather boots and bags (who am I kidding – there are plenty of things that make me drool including cupcakes, pasta, and Tom Hardy).
There's a great market called Artists and Fleas which features independent art, design, jewelry, fashion, and vintage – there are locations in Soho, Chelsea, and Brooklyn and there are so many treasures there.  I could browse for hours.
Visit the American Museum of Natural History
I spent a rainy day here years go and I feel like I could have spent a week here.  Very cool, worth a trip, and of interest for curious minds of all ages. http://www.amnh.org/
Get Cultured at the MoMA
I've only been here once but it was awesome; in addition to their permanent collection they often have special exhibits that are a complete delight. https://www.moma.org/
Visit the Fearless Girl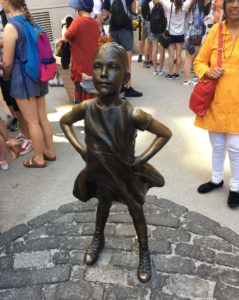 Most people are distracted by the giant, famous Charging Bull but I was much more enamoured by the bull's tiny, but determined opponent.  What's even more endearing is the line up of little girls posing to get their picture taken with the bronze sculpture.  Head down to the Financial District to see her.
Take a Moment of Silence at the 9/11 Memorial
A sobering, but important visit.  The memorial is beautifully and tastefully done – it's a shame, though, about the disrespectful and clueless tourists posing for selfies with face-stretching grins. https://www.911memorial.org/
---
WHAT I LIKE TO EAT
Pizza!
There is no shortage of pizza places in New York – here are some of my favs.

Luzzo's Pizza

Out of this world pizza cooked in a 100 year old coal oven; it's super cozy and a great spot to savor and enjoy.  http://luzzosgroup.com/luzzos-group-restaurants/luzzos
John's of Bleeker Street
Be prepared to wait in line for a table at this famous pizza joint.  It's wonderfully rough and ragged with autographed photos of celebrities lining the wall.  Pizza is authentic and tasty and there's a super quick turnaround so perhaps not somewhere you would linger for drinks and conversation.  This is straight up NY pizza and like the menu warns: don't ask for substitutions.  http://www.johnsbrickovenpizza.com/
Lombardi's PIzza
Lombardi's is the FIRST pizzeria in the United States, founded back in 1905.  How cool is that?  Prepare to line up but it's definitely worth the wait.  Very delicious.  http://www.firstpizza.com/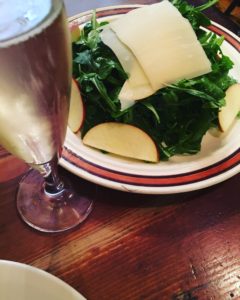 Motorino Pizza
Think artisan pizza.  Really yummy with a variety of toppings and options (including white pizzas).  Nice atmosphere and vibe.  http://www.motorinopizza.com/new_york/eastvillage
Don Antonio's Pizza
Awesome pizza near Times Square, created by world-renowned Neapolitan pizza chefs.  Be prepared to wait – but it's totally worth it.  Check out their signature pizze fritte (yep, that's fried pizza), such as the "Montanara Starita".  The smoked mozzarella they use is something else.  https://www.donantoniopizza.com/
Photo: Margarita pizza and arugula salad with parmesan at Luzzo's.  COME ON!
Sigiri
Cheap, tasty-as-frig Sri Lankan cuisine in the East Village.  Go with the chicken curry, lentil curry, and red rice.  Enough for two hungry people and under $25.  It's also BYOB – woohoo!  Important note: Sri Lankan food is some of the hottest food in the world so don't try to be a hero (like I did my first time there).  Go with mild when they ask and even request a little yogurt on the side (your gut and your butt will thank you). www.sigirinyc.com
Calexico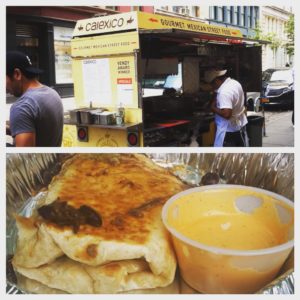 We discovered this food truck when my boyfriend and I walked by and saw a lineup.  In New York a lineup means it must be deadly and worth waiting for.  I've been making a stop here every time since then.  Head to the trunk in Soho (PrInce Street at Wooster).  http://calexico.net/
Thai Terminal
Tasty Thai at a great price in the East Village.  Check out their lunch specials where you get an app, salad, and a main for under $10.  http://thaiterminalnyc.com/
Ngam
When you wanna get modern and fancy with your Thai food check out this lovely spot in the East Village. http://www.ngamnyc.com/
Sauce
We first became interested in this place because my boyfriend and I thought the sign was cool (yes, we are as sophisticated as we sound).  After checking out the menu online we made a reservation and loved it so much we came back the next night (and I think, ordered the exact same dishes).  I'm in love with the Kale Caesar salad and the twice baked garlic bread (adding this to my list of things that make me drool).  They make all their pastas and sauces in house and I always go for some sort of magic filled tortellini in a brown butter sauce. http://www.saucerestaurant.com/
Eataly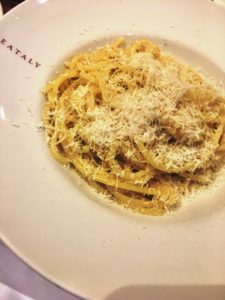 Words cannot do this spot justice.  It's an Italian market that is part grocery store and part restaurant: there are actually SIX different restaurants onsite as well as a gelato counter, Nutella counter, panini counter, and coffee counter.  Don't even think about it: JUST GO.  https://www.eataly.com/us_en/stores/nyc-flatiron/nyc-restaurants/

Photo: I'm a BIG FAN of the Cacio e Pepe at La Pizza and La Pasta, one of the restaurants inside Eataly.

Bareburger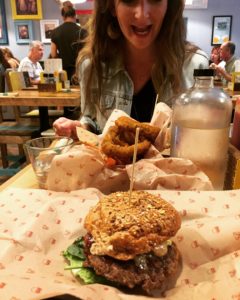 Oh man this place is so cool and there are a number of locations throughout the city.  Food is organic and sourced as close to home as possible – what's not to love?  They have an impressive selection of burgers (including bison, duck, elk, quinoa, and buttermilk friend chicken) and all of the toppings you can imagine.  It's like the food gods read my mind: they do a side that is half sweet potato fries/half onion rings (FINALLY, SOMEONE GETS ME).  They also have a great selection of salads and sandwiches if you're craving lighter fare.  bareburger.com
Photo: I can't remember if this photo was posed or if my friend Laura caught me in this throes of total turkey burger/onion rings/sweet potato fries ecstasy.  Let's go with the latter.

Cupcake Heaven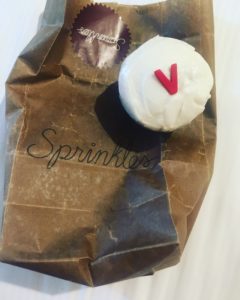 Do you remember that scene in Sex and the City where Carrie and Miranda are sitting on a bench eating pink-frosted heavenly-looking vanilla cupcakes?  Well I certainly do.  And people flock to Magnolia Bakery to indulge in those same sugary delights.  This was my go to for years: the cupcakes are so pretty, but to be honest I found them a little on the dry side on more than one occasion so I began to explore my options.  https://www.magnoliabakery.com/
Well now I have a new love, California-based Sprinkles Cupcakes.  They.  Are.  To.  Die.  For.  So moist.  So delicious.  I always go for the vegan red velvet (even though I'm not vegan) because they use coconut oil in the frosting and it is SO TASTY.  There's even a cupcake ATM outside if the line is too big or you have a craving after hours.  http://sprinkles.com/
Momofuku Noodle Bar
I've only been here once but the place is constantly PACKED: New Yorkers love their noodles!  https://noodlebar-ny.momofuku.com/.

They also have a dessert shop called the Momofuku Milk Bar that is sinfully good (try the Crack Pie).  http://milkbarstore.com/
The City Bakery
They have a few locations but the coolest is in Soho: "a landmark Italian bakery from last century restored into a Birdbath Green Bakery for this century."  The food looks incredible but I always get seduced by their giant chocolate chip cookies.  http://thecitybakery.com/

Mamouns
This take-away is right next to The Comedy Cellar and a great spot for a quick, cheap bite.  Falafel wraps are $3 and drenched in wonderfully garlicky tahini sauce.  So.  Good.  http://mamouns.com/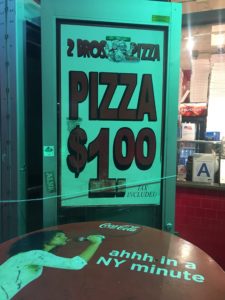 $1 Slices
My boyfriend became infatuated with the $1 slice phenomenon the last time we were there and I totally stuck my nose up at it.  But I've come to realize that it's totally a thing and it's totally delicious.  I sampled a few spots during my last visit and I am now a believer.  Do a Google search for "best $1 slice in NYC" and you'll discover a number of places to try out.  A perfect nightcap on the way home.
Deli Lunch
If you're looking for a quick, cheap bite pop into any random deli and enjoy a made to order sandwich.  You can't go wrong with a New York deli sammie.
---
WHERE I LIKE TO STAY
My preference is to stay WAY BELOW Times Square.  As I mentioned, Times Square is brilliant for a brief visit and totally fun to see and experience but trust me: you do not want to stay there.  I repeat: you do not want to stay there.  It is overwhelming, crawling with tourists, and the food can be expensive and downright awful.  And, for me, it's not the real New York.  Check out a neighbourhood and enjoy the local flavours and vibe.  It'll be a completely different experience and one that you'll love.  My favs are:
-Lower East Side
-Soho
-Tribeca
-East Village
-Greenwich Village
Hotels
I've scored great deals on Hotwire, Booking.com, Hotels.com, and Expedia, sometimes in advance and sometimes last minute (sign up for Hotels.com and Expedia mailing lists and they sometimes send out 10% off discount codes.  If you use the Hotels.com app there's a 5% discount code you can use on select hotels when you open the app).  I'm pleased with myself if I get a room for around $150CAD per night (NYC has really expensive accommodations, unfortunately).  Some people suggest staying in Brooklyn but I'm pretty set on staying right in Manhattan.  I don't splurge on fancy accommodations – as long as it's clean with a private bathroom and in a good hood I'll lay my head there.  I also like to stay really close to a subway station – at the end of the day it's nice to crawl out of the station and into bed without having to take too many steps.
Apartment Rentals
I rented apartments for my first few visits but most times I choose hotels.  I often need to store my bags due to flight times and apartment rentals can't accommodate luggage storage most times.  There are baggage storage places in town though if you're stuck.  I've seen great places to rent on AirBnB and would definitely choose this option if I was travelling with multiple people.
---
HOW I GET AROUND
Learn to use the subway:
It's great, efficient, and runs 24/7.  Buy a Metrocard, download the New York Subway app, and zip around the city like a local.  My two main methods of transport are walking and subway.
Grab a cab:
They're relatively inexpensive but beware of traffic, especially if you're in a hurry.
Uber:
I used this quite a bit on my last visit and it was great.  Download the app and you'll be able to book your ride in seconds.  Again, beware of traffic.
Transportation from Airport to City
I always get a cab to and from LaGuardia Airport since public transport isn't really efficient for this route.
If you're flying into JFK Airport you can get to the city easily via the subway.
If you're arriving at Newark Airport check out the train that runs from the airport to Penn Station in Manhattan.
---
WHEN I LIKE TO GO
Anytime!  Except winter.  Because I spend the bulk of my time outside and walking around I prefer to go when it's warm enough to be outside for 10-12 hours a day.  I was there in January once and I got a wicked deal on a hotel ($99/night!) but it was so damn cold that walking around all day just wasn't fun.  I usually get round-trip airfare for under $500CAD from St. John's to LaGuardia (YYT to LGA).
---
RESOURCES
For the low down: www.timeoutnewyork.com
Time Out NYC is my favorite resource.  Check it out for things to do, free events, theatre and movie reviews, listings, and unique and special offerings (like a $20 all-you-can-eat ice cream fundraiser in the park).
For discount theatre tickets:
Theatre Mania (www.theatremania.com)
Broadway Box (www.broadwaybox.com)
Ticket Central (www.ticketcentral.com)
I've signed up for their newsletters as well so I know what shows are opening, who's in them, and what discounts are available.  You can also try your luck and line up at the TKTS booth in Times Square (they sell off any available tickets for shows that day at a discounted price) but if I'm sure I want to see something I book online and in advance, either directly from the theatre or the sites I mentioned, so I won't be disappointed if there's no day-of tickets available.  Some theatres also offer really cheap rush tickets that you can line up for before the box office opens that day.  Again, you are taking your chances as the show can sell out before you get your chance at the wicket.
For theatre news: www.newyorktheatreguide.com
For music and concert listings: www.pollstar.com
And download an offline city map on your phone so you don't eat up data.
---
So there you have it.  Is this a definitive guide to the city?  Absolutely not; there are countless sights to see, food to eat, and experiences to enjoy!  Every time I visit I like to try something new so my list of favs can grow.  But this is how I like to move through the city, a city that brings me endless joy and excitement every time I'm there.
Have a question or want to offer a tip?  Feel free to comment!
-mel-