MELANIE CAINES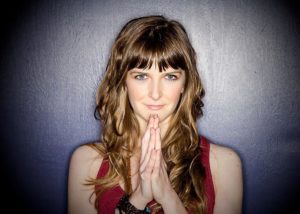 Melanie Caines is a Certified Yoga Teacher and the owner/operator of Nova Yoga.  Melanie is passionate about helping people improve their mental and physical well-being.  She has a strong love of movement and teaches multi-level Vinyasa (Flow) Yoga classes infused with spirit, laughter, sweat, and creativity.  She completed her 200Hr Yoga Teacher Training in Vinyasa (Flow) Yoga at Sonic Yoga in New York City in 2008 and has studied Prana Flow with Vinyasa/Flow goddess Shiva Rea.  Melanie is also a Certified Relax and Renew® Restorative Teacher and has completed Divine Sleep Yoga Nidra® Training (led by Jennifer Reis), Prenatal Yoga Training (led by Janice Clarfield), and Karma Kids Yoga Training.

Melanie is the host of three seasons of The Nova Yoga Show on Rogers TV. She has also released a yoga DVD called Nova Yoga Flow, filmed in beautiful Newfoundland and Labrador.  Her latest project, Move with Melanie, is a online subscription based video series to get you movin' and groovin' wherever you are!  Melanie loves to travel and leads delicious and exciting international yoga retreats in Costa Rica, Cuba, Mexico, Hawaii, and Europe.

Melanie has been named one of the Top 100 Health Influencers in Canada by OpTiMYz Magazine in 2017.  She has been nominated for the 2017 YWCA Women of Distinction Awards and for the 2017 Canada Top 40 Under 40 Awards.  She was named a finalist for the 2016 RBC Canadian Women Entrepreneur Awards and a finalist for the EY Entrepreneur Of The Year™ 2015 Awards. Melanie won the Start Up Business of the Year Award from NLOWE (Newfoundland and Labrador Organization of Women Entrepreneurs) in 2012.

Melanie is also an actor and has performed in theatres and festivals in Australia, Scotland, England, Ireland, and all across Canada. She graduated from the B.F.A. (Acting) Theatre program at Memorial University of Newfoundland's Sir Wilfred Grenfell College in Corner Brook, which is also her hometown.  Melanie performed in the critically acclaimed play Tempting Providence for 8 years and other favorite projects include the 2010 Governor General Award winning play AfterImage by Robert Chafe and CBC's The Republic of Doyle.